SWIRL FX Card Programme Update
Our SWIRL Foreign Exchange Card Programme is closing. After careful consideration, we have decided to discontinue this service as of 31st May 2024. We apologise for an inconvenience caused and want to provide all the necessary information and support our FX customers need during this transition.
Why is the SWIRL FX Programme Closing?
The SWIRL FX Programme has served our customers well over the years, offering convenience and flexibility for international travelers and those needing foreign currency access. However, due to a changing financial landscape, we've had to adjust our focus to meet current customer needs.
What Does This Mean for Current Cardholders?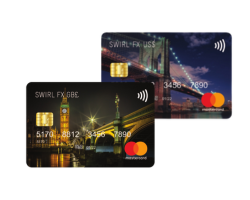 FX Card holders can continue to use your SWIRL Foreign Exchange Cards as usual until November 30th 2023, this will be the final date you can add funds to your FX Card. After this date you will still be able to spend funds until the programme closure date, May 31st 2024. 
What happens to my FX Card after May 31st?

After 31st May, FX Cards will expire. Don't worry, you will still be able to access your funds. Cardholders will need to get in touch with our Customer Support Team to arrange for their FX Card balance to be transferred to a SWIRL Prepaid Mastercard. 
Chat with Customer Support to Discuss your options!
Our SWIRL customer support team is available to assist with any questions or concerns you may have about this transition. Please reach out via email info@swirlcard.com or open a Live Web Chat in the bottom right of our screen.
Thank you for your understanding and continued support in our service.