Why Top Up Using Your Debit Card?
Top up from the comfort of your own home.
Top ups are instant and funds are available on your SWIRL Mastercard immediately.
Load up to €1000 per day (max €500 per top up).
Debit card top ups are secured by using your 3D Secure password.
No risk in carrying large amounts of cash to a shop in order to top up.
It's secure, it's instant and it's cheap
How To Top Up Using Your Debit Card
Topping up your SWIRL card using your debit card is easy. Just follow these three simple steps:
Log into your online account using the Mobile app, your mobile or on a desktop.
Enter the amount you wish to top up by. The default amount is €30, however, you can top up any amount from €1.00 to €500 per transaction.
Enter your debit or credit card details on the payment screen as illustrated below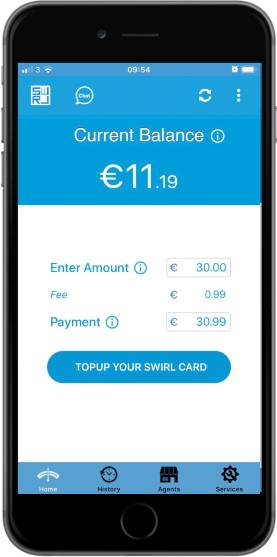 Important Information: Please Read!
When you press the "Load Your SWIRL Card Now" button, you will be prompted for your "3D Secure" password.
If you have a Visa debit card, this will be referred to as the "Verified by Visa" password.
You will need to enter your 3D Secure password or the unique code sent to your mobile phone from your own bank.
If you cannot remember your 3D Secure password, or don't receive a unique code to your mobile phone, please contact your bank.
If you have any questions, or need more information, send us an email to: info@swirlcard.com or contact us via Live Chat on our website.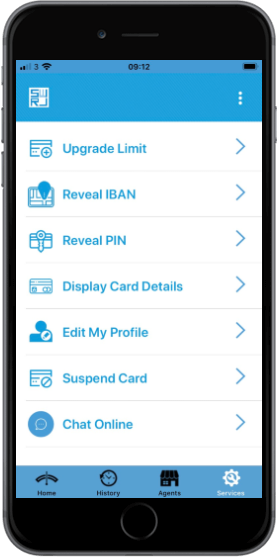 Download Mobile APP
With our SWIRL App, you have instant access to your account where you can view your transactions no matter where you are. This will help with keeping track of your spending and knowing when your bills and subscriptions are due.
View Transactions
View Bills
Upgrade Limit
Reveal IBAN
View Subscriptions
Reveal PIN Code
Suspend Card
Live Chat
Find an Agent
2,500 Top-Up locations
Purchase a card at 1,300 of these stores.
Click below to find your nearest store.