How it Works /
SWIRL Gift Card
---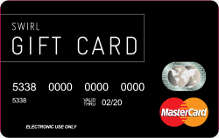 Coming Soon from SWIRL Card
SWIRL Gift Card will be available to pick up in participating Payzone outlets or to order online early 2017.
Top up from €10-€250 instantly. The lucky recipient must activate the card online to access the funds.
Spend online and in-store in over 30 million locations worldwide. The Perfect Gift for every occasion.